---
Oil Amp Gas
Oil drop hits Dakota as Continental cuts
From the
Financial Times
of Mon, 22 Dec 2014 22:51:53 GMT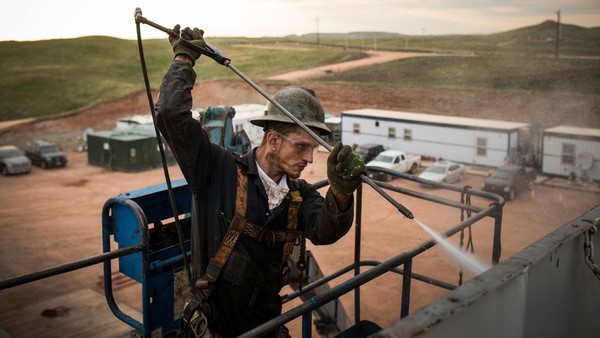 ©Getty
Official confirmation that the retreat in oil prices has reached North Dakota, which has been the epicentre of the renaissance in US crude production.
Continental Resources, one of the largest oil producers in the Bakken shale field in North Dakota, has cut its 2015 capital spending plans for the second time, and intends to reduce the number of rigs it has operating by nearly 40 per cent.
The announcement is the latest response to the slump in oil prices from US shale companies, which are among those hardest hit by the decline because of their relatively high costs compared to production in the Middle East.
Continental said late on Monday that it planned to spend $2.7bn on wells and other investment next year — down significantly from its previous plan of $4.6bn, which in turn was a reduction from its original target of $5.2bn.
It added that it expected to cut the number of drilling rigs it was using from about 50 today to an average of 31 for next year.
The company also said it expected to be able to cut the cost of its wells by about 15 to 20 per cent.
In spite of the planned fall in its capital spending, however, Continental still expects its average production next year to be 16-20 per cent higher than its average for 2014.
Harold Hamm, Continental's chief executive, said the revised budget "prudently aligns our capital expenditures to lower commodity prices, targeting cash flow neutrality by midyear 2015."
The Bakken field is bearing the brunt of the retrenchment, with planned capex falling by just over $1bn from an initial projection of $2.6bn.
The area, which covers 14,700 square miles across North Dakota and Montana, has drawn dozens of oil and gas producers keen to capitalise on new, and controversial, drilling technology that extract oil and gas from shale rock.
The boom has driven North Dakota's unemployment rate down to 2.7 per cent, the lowest of any US state.
---
This article is provided by DailyPaywall.com, which is published and distributed by Paolo Cirio Ltd., registered in England, number 8188080. Registered Office: Suite 36, 88-90 Hatton Garden, City of London, EC1 N8PG, United Kingdom. Paolo Cirio Ltd. alone is responsible and liable for information and services provided through Daily Paywall's newspaper and website.
---
Enjoy The Real Value of Information