---
Investments
IC — December 20 highlights
From the
Financial Times
of Fri, 19 Dec 2014 17:29:01 GMT
Buy: SuperGroup (SPG)
SuperGroup has had a bad year, but we continue to believe it has a lot of growth potential and cash to realise it, writes Julia Bradshaw.
It was a bitterly disappointing summer for shareholders in clothes retailer SuperGroup, which has lost more than half of its market value since April.
The spring/summer collection was not a hit with customers, while the warm autumn weather affected sales of the autumn/ winter range. As a result, like-for-like retail sales fell 4 per cent, while wholesale revenues eked out growth of just 2 per cent.
Sales and administration costs rose by £20m as the group continued to expand and invest in IT systems, leaving group underlying pre-tax profit down almost a third to £12.5m.
Management has nonetheless retained the full-year profit guidance of £60m to £65m it gave in October, stressing that the lion's share of earnings has historically been generated in the second half. Unfortunately, the poor first half left SuperGroup with a high closing stock position of £108m — up from £75.3m a year before. Major discounts may be needed to clear it.
Chief executive Euan Sutherland, the former Co-operative Group boss who joined the group in October, said he was reviewing "every aspect of the business" — including strategy, execution, cost management and capital allocation — and would report to shareholders in the spring. Store openings and other expansion planned for the review period would still go ahead, he said.
Cantor Fitzgerald expects pre-tax profit of £62m for the full year, and earnings per share of 57p, flat on last year. With the shares trading on a reasonable 14 times forward earnings, we remain bullish.
Sell: Weir Group (WEIR)
With demand still low and supply high, Weir's shares are still too expensive despite having fallen sharply, writes Daniel Liberto.
Drilling and activity levels remain robust but customers are growing increasingly nervy about the tumbling price of oil, Weir Group has warned.
Shares in the troubled Scottish supplier of oil and gas equipment have come under pressure in recent months as the price of a barrel of oil has almost halved from $115 six months ago.
While Weir said that its key oil unit is holding up, original equipment orders are in decline as customers evaluate their response to the oil price slide.
Even if prices recover, the uncertainty created by such marked falls is also likely to weigh heavily on the industry's spending decisions for some time. This could prove particularly painful for Weir.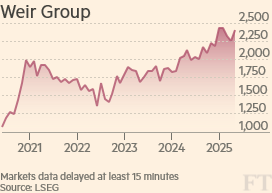 Indeed, in the first half continued strong growth in demand from the US shale industry was particularly helpful in offsetting weak mining demand. Yet with oil prices crashing, concern has spread that higher-cost shale operations, many of which are heavily in debt, will struggle to raise funds and maintain drilling activity, which could hit high-margin sales hard
Meanwhile, the outlook for the mining division looks uninspiring. Commodity prices continue to weaken, bringing capital expenditure down even further as the mining majors like Rio Tinto and BHP Billiton target cost-cutting measures.
In November, the group completed its acquisition of Trio, a Chinese rock crushing company, as part of the group's plans to boost its share of the mining market.
Buy: BT (BT. A)
©PA
BT's proposed acquisition of EE promises substantial synergies and will not break the bank, writes Theron Mohamed.
Shares in BT surged to a near-decade high as investors rallied around the telecoms group's proposed £12.5bn takeover of mobile operator EE from Orange and Deutsche Telekom.
A successful deal would make it the largest fixed-line and mobile services provider in the UK.
The group had initially planned to launch its own mobile offering early next year.
It probably chose to purchase established provider EE because of its 25m customer base and its extensive high-speed "4G" network, which should accelerate its "quad-play" efforts to offer television, broadband and both fixed-line and mobile telephony.
BT's offer price values EE at about eight times the carrier's cash profits of £1.59bn last year. It expects to sweeten the deal through post-deal savings such as lower marketing and sales costs and back-office consolidation.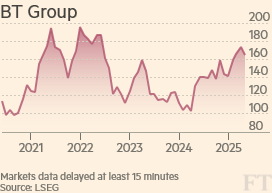 Jefferies, BT's broker, thinks that cross-selling fixed-line and mobile services could increase annual group sales by two per cent within five years, and reduce operating costs by three per cent.
It expects pre-tax profit of £4.06bn in the year to the end of March 2016, giving earnings per share of 31.4p, up from £3.14bn and 31.3p.
The proposed deal would give Deutsche Telekom a 12 per cent stake in the combined business, while Orange would own 4 per cent.
BT would supplement that with £6.3bn in cash, which Jefferies thinks it will partly fund through a £2bn rights issue.
Eleven 'have it all' stocks
Over the past 12 months, the six stocks picked by my "Have-It-All" screen at the end of 2013 have delivered a 23 per cent total return, compared with 5 per cent from the FTSE All-Share, writes Algy Hall.
Despite the headline number, the volatile conditions in 2014 meant that there were some noteworthy disappointments in the portfolio, including BHP Billiton — down 18 per cent.
Indeed, only half of the stocks outperformed the market, although fortunately the three stocks that did manage to outperform — Provident Financial, Kentz and Micro Focus — did so with real gusto. Each returned at least 45 per cent.
The screen requires shares to tick many of the classic boxes investors would expect from "value", "growth" and "income" stocks.
Companies must have a forecast price-to-earnings ratio of among the lowest third of all stocks screened, and must be in the top third for historic dividend yield. Average earnings per share (EPS) growth of at least 5 per cent must be forecast for the next two years.
Over the past three years, stocks must have a compound average growth rate (CAGR) of at least 10 per cent for free-cash flow and EPS, and of at least 5 per cent for dividend growth. Return on equity must also be at least 10 per cent, and by at least 15 per cent on average over the past three years.
The bad news this year is that no stock passed all of the eight tests, or even seven. Of those that met six criteria, six stocks passed both "value" tests.
LSL Property Services: Shares in the estate agency chain have been hit this year as investor euphoria about the housing market turned into panic, but LSL is relatively well diversified, boasting counter-cyclical income streams such as lettings and surveying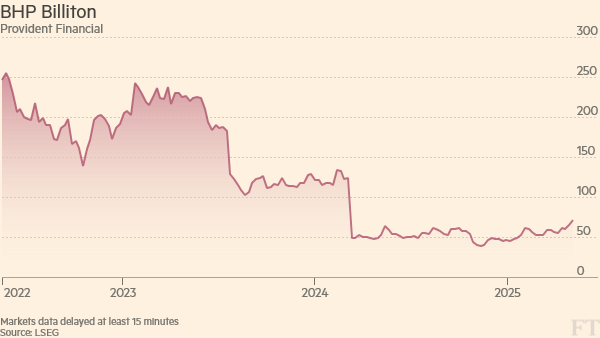 Interserve: Blue-collar support service work, which accounts for 60 per cent of underlying profits, looks set to benefit from an improving economic backdrop in the UK as well as cost savings from integrating the Initial facilities management business, acquired in March
Amec Foster Wheeler: Oil services stocks have been torpedoed by the fall in the oil price, but Amec's relatively strong performance owes much to selling its engineering expertise into non-oil markets, with clean energy a particular area of growth.
Berkeley Group: Share price losses this year reflect the company's exposure to the high-end London market, which seems to have slowed, but Berkeley is still making money hand over fist
Galliford Try: The housebuilder has a strong and growing presence in the less cyclical area of affordable housing, and looks set to be a big beneficiary from the recent stamp duty tax changes
KCom: The Hull-based IT and telecoms group was hit by the collapse of client Phones4U this year, but cash generation continues to look good and financing looks robust, helping to underpin management's commitment to grow the dividend by 10 per cent a year through to March 2016.
A further five companies pass one of the two value tests: Weir Group, GKN, XP Power, PayPoint and Lookers.
---
This article is provided by DailyPaywall.com, which is published and distributed by Paolo Cirio Ltd., registered in England, number 8188080. Registered Office: Suite 36, 88-90 Hatton Garden, City of London, EC1 N8PG, United Kingdom. Paolo Cirio Ltd. alone is responsible and liable for information and services provided through Daily Paywall's newspaper and website.
---
Get Paid to Get Informed