---
Telecoms
BlackBerry misses revenue forecasts
From the
Financial Times
of Fri, 19 Dec 2014 13:03:47 GMT
BlackBerry missed Wall Street's revenue expectations by a big margin in its most recent quarter due to a steep drop in smartphone sales, although it did manage to generate a small profit.
The pioneering Canadian smartphone maker, which launched its new Classic handset earlier this week, posted adjusted earnings of $6m or 1 cent per share for the three months to the end of November, its fiscal third quarter.
This was the group's first profit in seven quarters and compared with a loss of $354m, or 67 cents a share, a year ago. Analysts had been expecting BlackBerry to post a loss of around 5 cents a share, according to Bloomberg.
The company also stopped burning through cash and posted normalised cash flow of $43m for the period, reaching one of its self-assigned "financial milestones" earlier than planned.
However, revenues of $793m were well below the $956m being predicted by analysts on average, and around a third lower than during the same quarter of last year.
This was largely due to a big drop in hardware sales to $365m, much lower than the $500m analysts were expecting. The number of devices sold to customers fell to 1.9m, compared with 4.3m a year ago and 2.4m in the previous quarter.
The average selling price for a BlackBerry handset was $182 — 27 per cent lower than a year ago — as the company cleared out older devices from its warehouses by selling them at a discount.
BlackBerry said the average selling price would improve as its higher margin Passport and Classic smartphones replaced its legacy devices.
However, it warned revenues would decline again next quarter due to a drop in the lucrative service access fees it charges customers to use its infrastructure.
BlackBerry has long made money by charging these fees, but users of its newer BB10 devices get basic services for free. It is hoping to make up the difference by boosting sales of the Passport and Classic, and by growing its software business, although both will take time.
John Chen, chief executive, said revenue was "not satisfying", although he said "making money and generating cash have got to be the main priority".
He asked investors to give him more time to prove the group can grow its top line. "We need a couple of quarters to see revenue growth," he said.
"Revenue missed consensus by a sizeable amount, which is especially troubling because it included one month of new BlackBerry Passport sales," said Morningstar analyst Brian Colello.
Shares in the company fell nearly 7 per cent in early New York trading.
Mr Chen said the company had not manufactured enough Passports to keep up with demand. It is trying to match production with actual orders so it is not left holding unsold devices that create a liability on its balance sheet.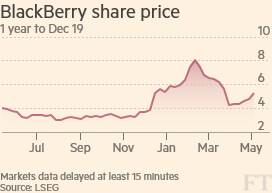 He said the Classic had been "very well received" by wireless operators such as AT&T and distributors, which have shunned the company in recent years.
The company issued 6.8m licences for BES10, its mobile device management platform for businesses, thanks to an "EZ Pass" programme that allowed customers to sign up for free. Most analysts say the real test is whether companies will agree to pay for the service now that the special offer has ended.
BlackBerry said it expected to maintain break-even or positive cash flow and would now "start looking for opportunities to prudently invest in growth". It is targeting a return to sustainable profitability some time in its fiscal 2016, which ends in February 2016.
At its peak in 2008, BlackBerry accounted for one in every five smartphone sales and had a market value of $80bn, compared with under $5bn today. Since then it has haemorrhaged sales in the face of strong competition from Apple and Samsung.
In the third quarter, its share of the global smartphone market was 0.5 per cent compared with 23.7 per cent for Samsung and 11.7 per cent for Apple, according to IDC, a research group that tracks handset sales.
Since he joined just over a year ago Mr Chen, chief executive, has been battling to return the company to profitability by arresting a decline in users and generating new sources of revenue from BlackBerry messenger and its connected car platform.
---
This article is provided by DailyPaywall.com, which is published and distributed by Paolo Cirio Ltd., registered in England, number 8188080. Registered Office: Suite 36, 88-90 Hatton Garden, City of London, EC1 N8PG, United Kingdom. Paolo Cirio Ltd. alone is responsible and liable for information and services provided through Daily Paywall's newspaper and website.
---

YOUR AD HERE
For inquiries write to info@DailyPaywall.com