---
Financial Services
Alibaba flies flag in banner year for IPOs
From the
Financial Times
of Thu, 18 Dec 2014 16:31:19 GMT
©AFP
Three months on from Alibaba's record $25bn initial public offering, the Chinese ecommerce group's name still commands fond memories on Wall Street.
But Alibaba was just one flag in what has been a banner year for flotations that saw several records shattered: the largest US real estate investment trust listing, the largest master limited partnership offering and, of course, the largest IPO in history.
In total, proceeds from 285 IPOs reached more than $94.6bn in the US, a 53 per cent jump from a year earlier and the highest level since the dotcom bubble in 2000, according to data from Dealogic.
Alibaba was joined by several prominent companies in the final few months of the year including Virgin America, Citizens Financial, Lending Club and Paramount Group.
Jeff Zajkowski, co-head of North America equity capital markets at JPMorgan, says: "2014 was a very robust year across the board.
"You saw very strong investor demand in high-growth sectors like life science and technology. You also had a lot of issuance of yield product in a surprisingly low rate environment — primarily MLPs but also Reits."
The US strengthened its grip at the top of the global league tables — accounting for 37 per cent of overall listings — with a diversity of offerings from the technology, financial, healthcare and energy sectors.
Technology accounted for more than two-fifths of total proceeds, buoyed by the Alibaba flotation, along with offerings from Candy Crush maker King Digital, Mobileye, JD.com, Markit and GrubHub.
Financials eclipsed the sector, however, when excluding Alibaba, which saw mandated floats — including Royal Bank of Scotland's $3.5bn haul from Citizens — and carveouts, such as the $3bn listing by former General Electric unit Synchrony Financial.
MLPs proved particularly popular in 2014, with offerings from Antero Midstream, Shell Midstream, Dominion Midstream and Rice Midstream.
"Energy, when you look at overall issuance, has been our biggest contributor, which is not surprising when considering the capex needs," says Doug Adams, co-head of equity capital markets for the Americas at Citi. "Oil production is still expected to grow next year and [companies] need the infrastructure to get the product to market."
A burst of volatility in September and October offered a reminder that the US market could rapidly quieten down, with withdrawals from a handful of companies in a single week; the majority citing market conditions.
In total, 70 offerings were pulled or postponed during the year, including a $400m deal from the world's largest off-patent crop chemical maker, Adama Agricultural Solutions, as well as a $601m offering from Vantage Energy that would have valued the oil and gas company at more than $1.8bn.
But a shift higher by stocks in late October calmed nerves — as measured by the CBOE's Vix volatility index — and the realisation that many investors were trailing their benchmarks opened the door for listings, where shareholders were rewarded with an average 13 per cent first day "pop" this year. While that trailed the 17 per cent average in 2013, it surpassed the broader S&P 500's 7.4 per cent gain.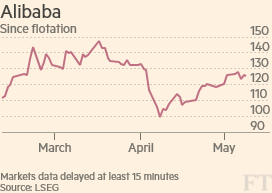 Matt Sperling, head of North American equity advisory at Rothschild, says: "It was a record year in a lot of ways, particularly surprising in light of the strength and breadth of transactions even against the major geopolitical events that would have seemed to impact the market."
The year was fruitful for Goldman Sachs, Morgan Stanley and JPMorgan, which took the top spots for listings on the New York Stock Exchange and Nasdaq. The three generated $1.2bn in fees, or nearly a third of the overall revenue pool, according to Dealogic. For the year, revenues split among the banks from New York listings climbed 16.7 per cent to $3.6bn.
Bankers remain broadly upbeat about what first-time issuance will look like in 2015, although they admit that without another blockbuster listing such as Alibaba, the overall deal value may slip.
Offerings from the likes of GoDaddy, the web hosting company, and Azul, Brazil's third-largest airline, are already in the works, with investment banks at the ready for the potential flotations of First Data and Vice Media. Uber and Airbnb may also head public next year, IPO ETF manager Renaissance Capital says.
Joe Castle, head of Barclays equities syndicate, says: "In mid 2011, we thought we'd see a five-year bull-run and now we are three-plus years in.
"It's hard to say that you'll see another $25bn deal, but we were surprised on that front this year as well."
---
This article is provided by DailyPaywall.com, which is published and distributed by Paolo Cirio Ltd., registered in England, number 8188080. Registered Office: Suite 36, 88-90 Hatton Garden, City of London, EC1 N8PG, United Kingdom. Paolo Cirio Ltd. alone is responsible and liable for information and services provided through Daily Paywall's newspaper and website.
---

YOUR AD HERE
For inquiries write to info@DailyPaywall.com