---
Banks
National Australia Bank hastens UK exit
From the
Financial Times
of Tue, 16 Dec 2014 04:56:19 GMT
©AFP
National Australia Bank is selling a £1.2bn portfolio of risky UK commercial property loans to Cerberus, the US private equity group, as the bank's new chief executive accelerates its British exit.
The Australian Big Four lender has long sought to extract itself from a pre-crisis era expansion into the UK, where its biggest remaining holdings are the Clydesdale and Yorkshire banks — for which it is examining options that include a possible initial public offering.
The latest deal builds on £625m parcel of largely non-performing loans that the bank sold to Cerberus in July.
"This is an important step forward, effectively bringing closure to one of our legacy positions," said Andrew Thorburn, NAB chief executive.
The portfolio consists of mainly defaulted, at-risk or high loan-to-value loans, the bank said. The sale leaves NAB with an £836m portfolio of performing loans for which the bank said it would examine other options.
When completed, Tuesday's sale will release £127m of capital, NAB said, adding that it would no longer report its UK loan portfolio as a separate line of business.
Mr Thorburn took over in April , well aware of investor impatience with the Australian lender's slow withdrawal from the UK. Shareholders have urged the bank to focus more on its home markets, viewing its venture halfway around the world as a costly mistake.
NAB first announced plans to close its UK property arm and dispose of a £5.6bn loan book in 2012, under then-chief executive Cameron Clyne.
Mr Thorburn said Tuesday's deal was "another important milestone in our strategy of reducing our low returning legacy assets and sharpening our focus on our core Australian and New Zealand franchises".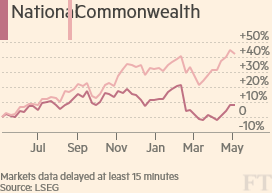 Shares in NAB were flat in Sydney afternoon trading, beating a 0.8 per cent slide in the wider market.
The bank has, however, underperformed its Big Four rivals this year, down 10 per cent compared with a 4 per cent gain for Commonwealth Bank, the biggest of the country's banks.
As part of its retreat homewards, NAB in October pulled back from the US via the flotation of 28 per cent of Great Western Bank, for which it received $288m. Further selldowns are planned over time.
---
This article is provided by DailyPaywall.com, which is published and distributed by Paolo Cirio Ltd., registered in England, number 8188080. Registered Office: Suite 36, 88-90 Hatton Garden, City of London, EC1 N8PG, United Kingdom. Paolo Cirio Ltd. alone is responsible and liable for information and services provided through Daily Paywall's newspaper and website.
---
Get Paid to Get Informed