---
Industrials
Johnson Matthey sells refineries
From the
Financial Times
of Mon, 15 Dec 2014 12:26:57 GMT
©Bloomberg
Johnson Matthey is selling its gold and silver refining business to Japan's Asahi Holdings for £118m as the FTSE 100 company accelerates plans to refocus on its core chemicals and technology operations.
The business, which employs about 340 people, is a refiner of primary and secondary gold and silver materials, with plants in Salt Lake City in the US and Brampton in Canada. It made sales of £44m in the year to the end of March, with return on sales typically about 25 per cent.
The deal comes amid declines in the price of both gold and silver. Investors have backed out of the precious metals due to a rally in the US dollar prompted by the recovery of the world's largest economy.
The recent fall in prices saw Johnson Matthey report a 23 per cent decline in half-year sales at its gold and silver refining business. At the time, the company noted that market conditions continued to be "challenging".
"We think this is a sensible move given the midterm outlook for gold/silver prices remains unpromising and there are few synergies with the rest of the group," said Adam Collins, analyst at Liberum.
The disposal does not include Johnson Matthey's platinum metal refineries in the UK and the US, which has some synergies with the group's large catalyst manufacturing businesses, added Mr Collins.
Robert MacLeod, chief executive of Johnson Matthey, said the sale was in line with its "long term strategy" to focus on using its expertise in chemistry to deliver high technology solutions.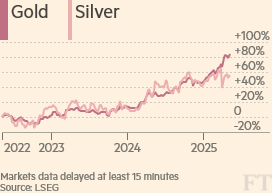 The speciality chemicals company has made moves in recent years to reposition its business as an advanced materials technology company, rather than one that focuses on precious metals.
In October, it announced the $75m acquisition of a battery materials business from Clariant — the third deal in this space over the past two years. This is one area that Mr MacLeod — who took over from former chief executive Neil Carson in June — has been keen to develop as it looks to grow sales across its new business division.
However, the majority of Johnson Matthey's business is driven by sales of its auto catalysts for cars and lorries, which is benefiting from tighter environmental legislation.
The sale to Asahi is expected to complete by the end of March.
Shares rose 1 per cent to £32.38.
---
This article is provided by DailyPaywall.com, which is published and distributed by Paolo Cirio Ltd., registered in England, number 8188080. Registered Office: Suite 36, 88-90 Hatton Garden, City of London, EC1 N8PG, United Kingdom. Paolo Cirio Ltd. alone is responsible and liable for information and services provided through Daily Paywall's newspaper and website.
---
Get Paid to Get Informed