---
Retail
Carpetright warns on consumer spending outlook
From the
Financial Times
of Mon, 15 Dec 2014 09:33:15 GMT
©Bloomberg
Carpetright has warned that a slowdown in property sales growth in the UK and economic uncertainty in Europe could hurt consumer spending as the struggling retailer laid out further plans to revive its fortunes.
Europe's leading carpet seller on Monday voiced concerns over the outlook as it reported that pre-tax profit rose 250 per cent to £6.7m, on a sales increase of 2.6 cent to £227.9m in the six months to October 25. But the company said it would not be paying an interim dividend due to "uncertainty in the retail environment".
"While there remains significant uncertainty over consumer spending in the coming months, with a general election and a slowdown in housing transactions in the UK, and weakening economic conditions in Continental Europe, we remain confident the Group will continue to make progress during this time," the company said in a statement.
Wilf Walsh, chief executive, added that despite concerns over the outlook, he expected full-year results to meet analysts' estimates.
"Having made a solid start to the year, we now expect full-year underlying pre-tax profits to be towards the upper end of current market expectations," he said.
Investors shrugged off Carpetright's concerns over the outlook, with the company's shares rising nearly 12 per cent in early trading to 349.64p.
Carpetright reported a return to operating profit in Europe, where it has 139 stores, and made £1.5m in the first half. Sales fell but it increased gross margins thanks to better prices from suppliers and cost cuts.
Sales in the UK rose 5 per cent to £194.2m as the group discounted to attract customers, but gross margins in its domestic market fell 140 basis points to 61.7 per cent. It closed nine stores in the UK during the period.
The retailer aims to further lower fixed costs. Over the next five years nearly 30 per cent of its outlet leases come up for renewal, which it plans to use as leverage to lower rent. During the half year it achieved average rent reduction at lease renewal of more than 10 per cent, it said.
Carpetright has struggled in recent years, having suffered a string of profit warnings and the sudden departure of its chief executive last year. Shares were down 40 per cent this year before trading opened on Monday and its founder, Lord Harris, retired as chairman in October.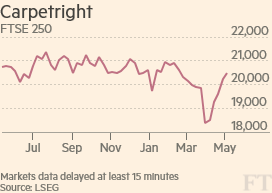 Mr Walsh, who joined in July, said the company would be trialling new ranges and services in order to turn its fortunes around, including new premium "sample only" high street outlets.
The company said it would be launching a new website in spring 2015.
---
This article is provided by DailyPaywall.com, which is published and distributed by Paolo Cirio Ltd., registered in England, number 8188080. Registered Office: Suite 36, 88-90 Hatton Garden, City of London, EC1 N8PG, United Kingdom. Paolo Cirio Ltd. alone is responsible and liable for information and services provided through Daily Paywall's newspaper and website.
---
Get Paid to Get Informed